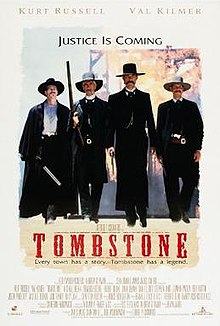 Random Quote from Tombstone
Tombstone Quotes
I have two guns, one for each of you.
I'm your Huckleberry, that's just my game.
You tell him I'm comin'….and Hell's comin' with me!
It seems poker just ain't your game! I know… How about a spelling contest?
I'm dying. How are you?
You look like somebody just walked over your grave.
I have not yet begun to defile myself.
Oh, Johnny, I apologize; I forgot you were there. You may go now.
You called down the thunder, well now you've got it.
He's down by the creek, walkin' on water.
I'm a woman, I like men. If that means I'm not lady-like, then I guess I'm just not a lady.
Go ahead, skin it. Skin that smokewagon and see what happens.
Look at all the stars. You look up and you think, "God made all this and He remembered to make a little speck like me." It's kind of flattering, really.
I don't think I'll let you arrest us today.
Why, Kate, you're not wearing a bustle. How lewd.